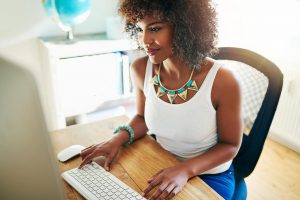 What is Telework?
Telework is defined as employees who work from their home or satellite work center all or part of the work week. Communication between the telecommuter and their office is done via the phone and internet.
FACT: According to workflexibility.org, 3.9 million U.S. employees, or 2.9 percent of the total U.S. workforce, work from home at least half of the time, up from 1.8 million in 2005 (115 percent increase since 2005).
To learn how area employers have implemented telework programs visit: MWCOG's Telework Case Study page.
The Benefits – For Employers and Employees:
Less stressed employees who feel valued and are more productive and more motivated
Reduced absenteeism and sick leave
Reduction of leased space
Flexible work environment
Choices:
Employees can telework one day a week, two, three, four or all five.
Teleworkers will feel like they got a bonus and a raise, all at once, as they add to their time at home, and slash their commuting costs.
Your organization will be more attractive to potential employees in the recruiting process.
Built in disaster management tool…if you have a problem in your main location, work can still be done from the remote location.
Visit Commuter Connection's Telework Page.
What is a Telework or Telecommuting center?
Offices that are designed to be geographically more convenient for an employee who has a long commute to work. A telework center has all the necessities and amenities of any office, and they offer all the standard office equipment. Many have video teleconferencing. There is voice mail, e-mail and the Internet. Long-term commitments are not required.